We have news this week that 40,000 hectares of public forest has now been taken off the market due to concerns about access - but this will not apparently stop the much much bigger sale go-ahead. Neil Carmichael MP has also been writing in the local papers about his concerns re the forests - however it did not stop him voting for the sale. This is not a final decision but his support for this move makes no sense. Over half a million people have now signed
the 38 degrees petition
!!
Photo: Yellow ribbons in the forest of Dean - see more further down in this blog
Responding to the statement from DEFRA about the sale of Forestry Commission land, Caroline Lucas MP, Green Party leader said:
"No one should be misled into thinking that today's statement represents a reprieve for the nation's forests and woodlands. It refers to the ongoing sale of Forestry Commission assets, as begun under the previous administration, and whilst I welcome the Government giving greater consideration to protecting access to our woodlands there is still no sign that they are genuine about this in the long term. It's clear that the Government is now on the back foot as a result of the public campaign against their ill judged proposals. But we still have a fight on our hands to resist the legislative changes that would make the forest sell off a reality – which is why I will be seeking to amend the Public Bodies Bill in the Commons."
I have now received Carmichael's reply to my email sent a month ago - see it below. Sadly he does not answer most of the issues I have raised - his reply was his standard letter - also on his website
here
. I have written again to him today.
Meanwhile the consultation is now out - see:
www.defra.gov.uk/corporate/consult/forests/index.htm
Read Tony Juniter in The Guardian:
www.guardian.co.uk/environment/cif-green/2011/feb/08/forest-sell-off-public-interest?INTCMP=SRCH
Chris Riddell's
cartoon in The Observer
: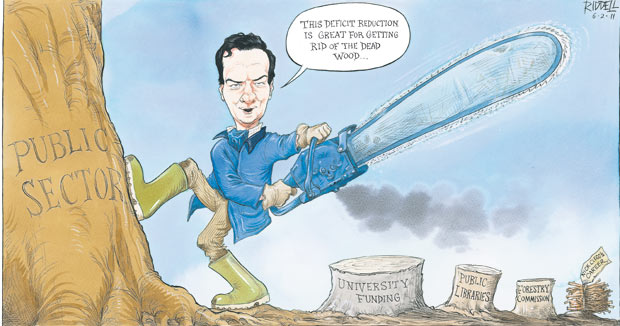 So we know Neil Carmichael has received over 400 letters and e-mails on this subject and is holding a public meeting on Friday, 4th March at the Old Town Hall in Stroud from 6.30 to 10.30 p.m. to discuss the government's proposals concerning the Forestry Commission. I sadly have something else that night although I am trying to change it as I want to express my anger at this move that makes no sense environmentally or economically.
My email 14th Jan:
Thank you for your reply re the plan to sell-off forests (10/01/11). However you did not state your own views. Do you agree with the Minister that the sell-off should proceed? The Defra letter gives me no comfort what so ever to those of us who have many concerns - as you will see from the article below the economic case cannot be made.
Ancient forests like our Forest of Dean, the New Forest and Sherwood Forest are national treasures. Once gone, they are lost forever. The current system means people can enjoy forests and feel ownership of them. Selling forests threatens the Forestry Commission's work to restore ancient woodlands. In England the commission is subsidised by £30m a year, but generates an additional £63m a year in income. A government study last year calculated that it provides £2,100 in value per hectare per year if benefits such as erosion protection, pollution absorption, carbon sequestration and health provision are included. To preserve our forests costs just 30p per taxpayer a year.


I urge you to support those who want to keep the Forest of Dean in public hands. As Bill Hobman, the former chairman of Forest of Dean District Council, says: "Mr Cameron should show us the deeds to the forest. How can they sell something they don't own?... This is a wonderful part of the world and shouldn't be auctioned off to the highest bidder to have their own little bit of heaven."


Here are 13 initial questions that campaign groups would like an answer:
1. Will the Forestry Commission itself decide which woods are to be sold. If not, who will?
2. How will the taxpayer benefit?
3. Will charities and conservation groups be allowed to buy woods by negotiation, or will it be a straight competition?
4. Will employment be guaranteed to former commission workers in socially fragile areas?
5. How will the government ensure that the forests are not simply asset-stripped?
6. Will the government guarantee that no sale or transfer is completed until the buyer has committed to preserving and maintaining access?
7. What effect will the sale have on biomass energy, paper and other companies who need to be able to guarantee supplies of wood?
8. Will the forests be sold on the open market ? 9. Where access is currently not secured in law, will this be remedied through the Countryside and Rights of Way Act?
10. How will public access be guaranteed?
11. What guarantees can the government give that conservation will be practised or woods will stay in sympathetic ownership?
12. Will conservation bodies be given privileged opportunity to buy the woods?
13. Will the government still have to pay out to whoever takes over the forests to ensure that the commission's conservation and recreation policies are maintained?
14. How much revenue-earning potential will the sell-off leave the commission?
All the best - Philip
Philip Booth
I also enclosed a copy of the article from The Guardian: "Privatising English forests could 'cost millions in lost tax revenues'":
www.guardian.co.uk/environment/2011/jan/13/english-forests-lost-tax-revenues
Forest of Dean
Meanwhile read how Peter Harper MP fled his consultation meeting with 250 Forest constituents: w
ww.handsoffourforest.org/
And see
here
Jonathan Porritt on why you would not want to be Peter Harper.
And the yellow ribbons that are starting to appear? Well there is a movement underway, started by Sally Lomax, to tie a yellow ribbon around prominent trees. The idea is to constantly remind everyone in the Forest that it is under threat. Only when the Forest is safe will they be removed. You can buy Florist Ribbon, 100yds long and about 2" wide, colour daffodil, 100% waterproof, at Crazy Occasions (tel: 01594 841333) in Lydney. It might be worth phoning to see if they've got any in stock before going there