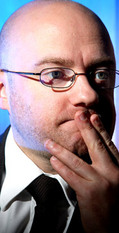 So the Budget was defeated in Scotland - the press are crediting Greens for that but it is not quite as simple - See what Green Member of Scottish Parliament Mr Harvie (pictured) has to say
here
.
The Scotsman newspaper writes (and I am not sure they have the whole picture):
"Right at the end of the debate, Mr Swinney said £33 million would be provided for the scheme, insulating 100,000 houses, as Mr Harvie wanted. Although Mr Swinney guaranteed that this money would be spent, he could not give an assurance that all of it would come from the Scottish Government. Mr Harvie was worried that some of the money might come out of budgets already earmarked for fuel poverty when he wanted it all to be new money. And it was at that point that he decided the Greens should oppose the SNP's Budget."
Here is what SW Green MEP candidate Dr Richard Lawson notes:
"My impression is that the SNP treated the Greens with political disdain, failing to negotiate clearly and communicate their views in good time. In the end, any money spent on saving energy has to be a good investment, and the SNP has paid the price for their political arrogance and economic ignorance."


Let us not forget the original scheme proposed by Greens would cost just £100m a year and would have made a massive contribution to cutting fuel poverty and climate change emissions, to reducing household bills and to boosting employment. It is a relative drop in the overall budgetary ocean - a third of one percent of the coming year's spending. Indeed it makes sense any way you look at it.