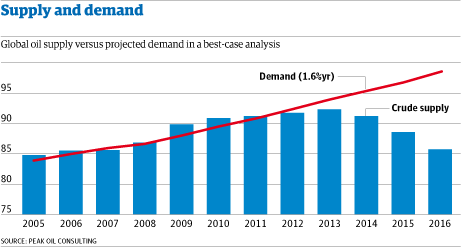 A report was issued several weeks ago by the recently established UK industry taskforce on peak oil and energy security - a group of eight companies including transport firms Virgin, Stagecoach and FirstGroup, engineers Arup, architects Foster and Partners, and energy giant Scottish and Southern. It is the first time a group of businesses has weighed into this debate which regular blog readers will know has been covered extensively on this blog and is an issue I have raised repeatedly with the Council in various committees.
The report warns that the problem of declining availability of oil will hit the UK earlier than generally expected - possibly within the next five years and as early as 2011. Oil supply could then rapidly decline, or even collapse with potentially devastating implications for the UK economy.
The report is in stark contrast to the Government's position. I forwarded it to key Officers in the District Council and to all District councillors when it came out - it has huge implications on the District. I wrote:
"If we accept this report then we must prioritise even greater efforts into cutting the District's energy use. What further measures can we take? What measures must we take?"
I am hoping we will see some actions but so far other than a couple of replies there is little evidence of the urgent actions that are needed. It seems this will need to be followed up.
See report here:
http://www.peakoiltaskforce.net/
See Guardian article:
http://www.guardian.co.uk/environment/2008/oct/29/fossil-fuels-oil
See more re The All Party Parliamentary Group on Peak Oil and Gas at:
http://www.appgopo.org.uk/